ABERDEEN NEWS - After a long and distinguished career spanning 35 years Luxolo Intermediate School principal, Jan Mathiale, has decided to call it a day. He served as Luxolo's principal for 30 years.
Jan was born and bred in Graaff-Reinet in 1958 where he also obtained his primary and partly secondary school education, then known as "Form 1- Form 3."
He then attended Form 3 - Form 5 at Thembalesizwe Secondary but could not complete Form 5 (standard 10), because he was suspended for his political engagements as part of the ANC Youth League during Apartheid.
Jan then relocated to Wittlesea where he completed his Form 5 at Wittlesea High School in 1981.
His first work experience came in 1982 as a shelf packer in Graaff-Reinet at Checkers. In 1983 he decided to attend Cape College to commence his tertiary studies and to attain a senior primary teaching diploma in 1986. He started his teaching career in the same year at Luxolo Intermediate School. Jan was commuting between Aberdeen and Pretoria Soshanguwe for in-service training for the duration of 1986.
In 1988 he was recruited by the Department of Education to further his studies in mathematics for three months at Leeds University in London, England and returned to Luxolo in 1988.
In 1989 he was seconded to Nqweba Secondary to use his skills and unique methodology as a mathematician to assist the then standard 10`s.
At the request of the then SGB of Luxolo to the Department of Education, he returned to Luxolo Intermediate School in 1990 and a year later he was promoted to principal of the school.
Jan furthered his education at the South African Teachers College to attain a higher education diploma in mathematics in 1996.
Under his expert guidance, the school has excelled in various spheres. Jan was also part of the delegation mandated to go and consult the then minister of Education in Cape Town in Parliament to ensure that Aberdeen gets a high school that is all-inclusive of all races and religions. Today the town has the Aberdeen Secondary School.
Under his management, the school could broaden the scope and vision of its learners by engaging them annually on educational excursions to East London, Port-Elizabeth, Cape Town, Oudtshoorn, Mossel Bay and George.
Jan's foresight to predict paid off when under his leadership the school applied to Vodacom for a mobile computer lab, which they received in 2015.
In 2013 they applied successfully to the NLC for funding to construct a multi-purpose educational and recreational centre, which they received in 2016. They also managed to buy R50 000 of sports equipment and apparel for the learners and built a multi-purpose centre costing R249 992.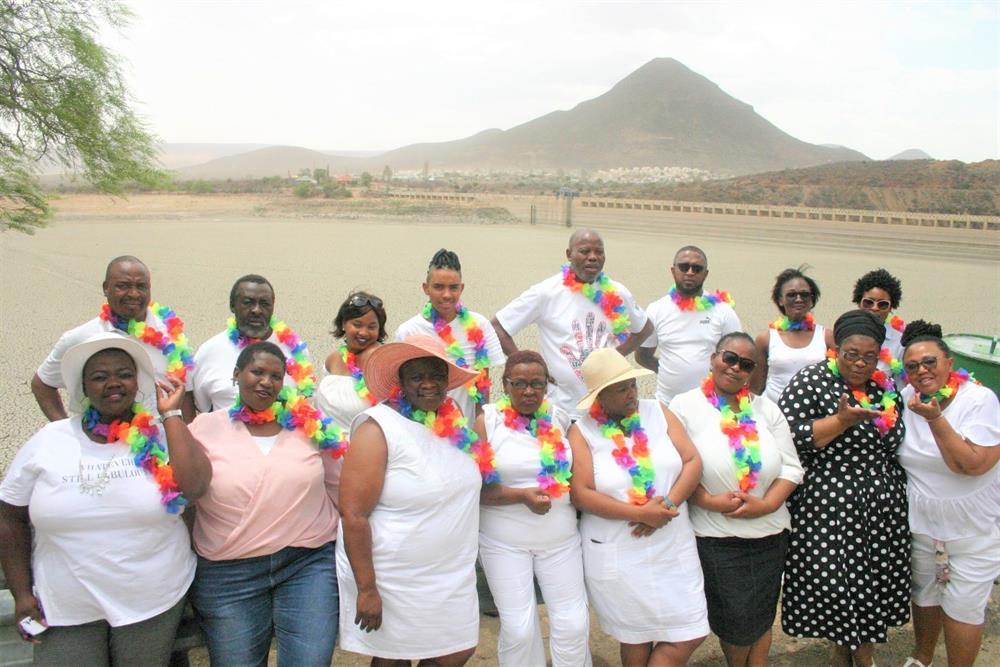 The staff of Luxolo Intermediate School in Aberdeen will sorely miss their school principal, Jan Mathiale, who decided to retire after serving 30 years at the helm of the school.
Christo Frazenburg, deputy principal, said what stood out for him about Mister Jan was his calmness, no matter how difficult a situation was. "He was always calm and collected and listened attentively to everybody's opinion and came up with constructive solutions. He was born to serve and lead people, but his leadership is one of trust, loyalty, transparency and building the next generation of leaders.
"This in the true sense of the word is leadership, creating a scaffolding for growth and understanding the psychology of working with people to achieve a common goal.
"The gift that is bestowed upon him, is one of teaching. His approach to the curriculum and the methodology he uses to encourage learners to engage themselves in mathematics and life holistically is phenomenal.
"I am extremely privileged to God for allowing Mister Jan to be part of our lives as a teacher, father, brother and confidant. We as the staff of Luxolo Intermediate School will surely miss his kind-heartedness and joyous character."
'We bring you the latest Graaff-Reinet, Karoo news'