GRAAFF-REINET NEWS - The 60th Annual General Meeting of The Friends of The Graaff-Reinet Museum was held in the Military Museum on 27 June, and both the head of the museum, Anziske Kayster, and Chairman Peter Whitlock gave full reports on the last year.
During his seventh annual report, Whitlock proudly remarking that the museum has successfully negotiated another year: this coming only a few years after fears in 2017 that financial pressures could cause the closure of the museum.
Once again, the financial security of the museum was bolstered by a very generous grant received from the Rupert Historic Homes Foundation.
The highlight of the year was the appointment of the new Board of Trustees in January 2019.
At the first meeting of the new board, Peter Whitlock was unanimously elected as chairperson and Pat Wallis as vice-chairperson.
They will be supported by Dr Ansie Malherbe, Cllr Joy Williams, Elizabeth Buisman, Thandeka Majoka and Andy Gradwell, and subscribers' representatives Brian Hough and Liesl King, who were both re-elected.
The enthusiasm and dedication of Kayster shone through in her report, and both speakers acknowledged the unwavering support received from both staff and volunteers.
A special moment during the year for Kayster was receiving a donation of artefacts last October by a great-grandson of Frans Karel Te Water Naude.
Much of the collection, which consists of hundreds of photos, buttons and stamps, paintings by her mother, diaries and documents, were sorted and placed on display.
Many of the paintings were also evaluated by Anton Welz, the antiquarian, who determined their value as "sentimental".
A collection of forty-five dolls was also donated by Rina Haarhoff from Paarl, and a new tapestry and embroidery display in the dining room of Reinet House is a truly wonderful addition to the collection.
The guest speaker at the meeting was Lynne Moseley, who recently opened an antique, collectables and second-hand warehouse in the old ostrich hatchery.
She entertained the guests with tales of some of the more unusual and quirky treasures in her store, which includes an eclectic mix ranging from teddy bears to furniture.
Some have obvious aesthetic appeal, whereas others open doors for creative upcycling and refurbishing.
After all the talking, the guests were treated to a selection of hearty soups and bread and enjoyed the chance to socialise.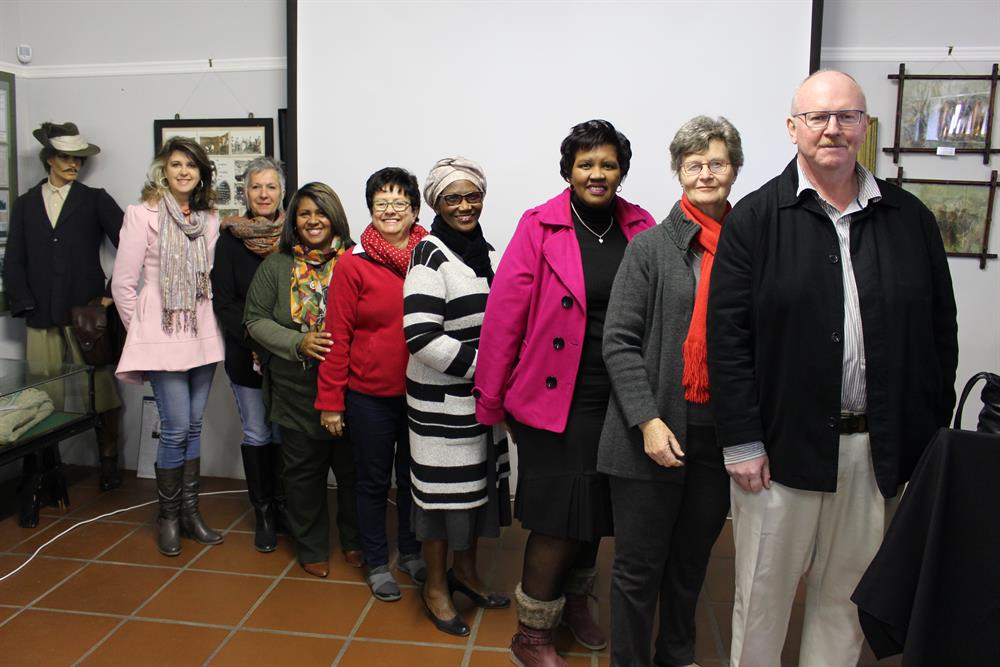 Members of the board with the guest speaker Liesl King (watched by a model of Gideon Scheepers), Lynne Moseley, Anziske Kayster, Ansie Malherbe, Thandeka Majoka, Joy Williams, Elizabeth Buisman and Peter Whitlock. Photos: Sue Shaw
'We bring you the latest Karoo news'