Video
GRAAFF-REINET NEWS & VIDEO - Three Graaff-Reinet locals celebrated Heritage Day on 24 September by giving back to the community of Santaville.
Organisers Refiloe Williams, Siya Silimeni and Ilisma Jacobs held a Heritage Day celebration at Circle Drive from 11:00 until late afternoon, where locals, especially youngsters, enjoyed plenty of traditional games.
"We wanted children to have fun as we had back in the day," said Silimeni. Games included dominos, card games, and jump rope games. Toys, sponsored by Crazy Store, were up for grabs as prizes.
Youngsters also participated in the Jerusalema Dance Challenge, much to the delight of the older residents watching. After all the dancing fun, locals enjoyed lunch, provided by Mercy and Care and Assemblies of God. Graaff-Reinet local Moses Bush also helped to make the day possible through donations.
"As a community, we must stick together," was Silimeni's message to the locals of Santaville. "United we stand, divided we fall." He also advised the locals to do things that make them happy.
Watch a video below:
Santaville residents participate in the Jerusalema Dance Challenge.
Organisers Refiloe Williams, Ilisma Jacobs and Siya Silimeni.
Friends play a round of dominoes.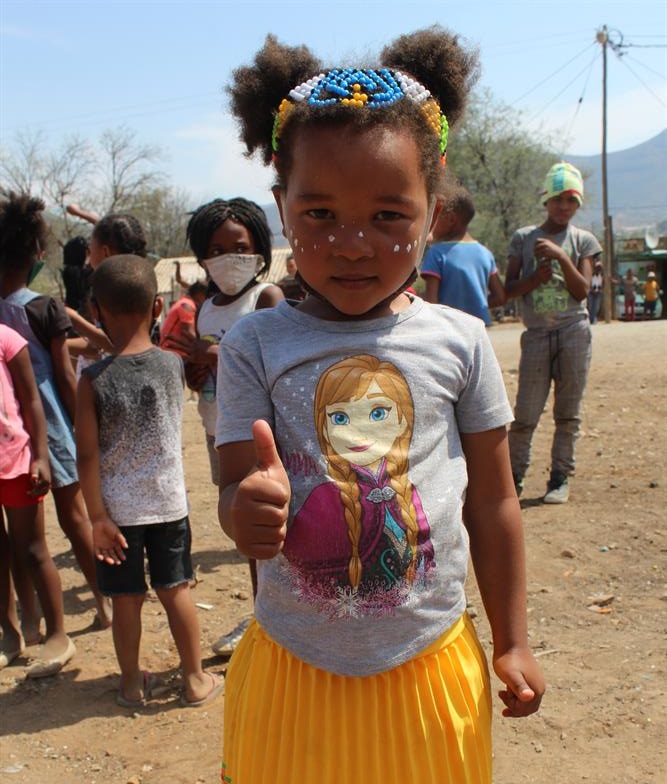 How adorable!
'We bring you the latest Graaff-Reinet, Karoo news'