GRAAFF-REINET NEWS – Snow Report SA issued a weather report this morning predicting possible snow falls throughout the day on Sunday, 1 July, and into the early hours of Tuesday morning that might bring a blanket of snow to Graaff-Reinet's surrounds.
'This Sunday, 1 July, a cold front will arrive on the shores of the Western Cape. By Sunday evening, we should see some snow fall over the peaks of the majority of Cape mountains. We may see more than 15cm on some ranges including those of Hottentots Holland, Cederberg, Matroosberg and the Boland mountain range. At the same time Northern Cape areas such as Sutherland, Calvinia and Fraserberg are expected to receive snow, reaching up as far as Springbok by Monday morning,' the report said.
'As the cold front moves East, the Eastern Cape should receive its fair share of snow, with the heaviest falls being predicted for the Lady Grey and Barkly East areas and surrounds. Hogsback is also likely to receive some snow although for now, only light falls are predicted for this region.
'By Monday afternoon the cold front should bring the snow into many parts of Lesotho. Sani mountain top is likely to get some snow if the cold front holds course, late Monday evening or early hours of Tuesday morning. We could very well see some snow pushing in to KZN this time round with falls predicted for Underberg, Mooi River, Rosetta and Impendle.
'Extremely cold temperatures are expected right across the country with this front, and we are expecting the South African Weather Service to issue warnings in this regard. Farmers should take note of the warnings and take the necessary precautions, especially with regards to live stock.'
Snow Report SA concluded the report by stating that they will keep an eye on this system, and will give an update again if there are significant changes to the forecast.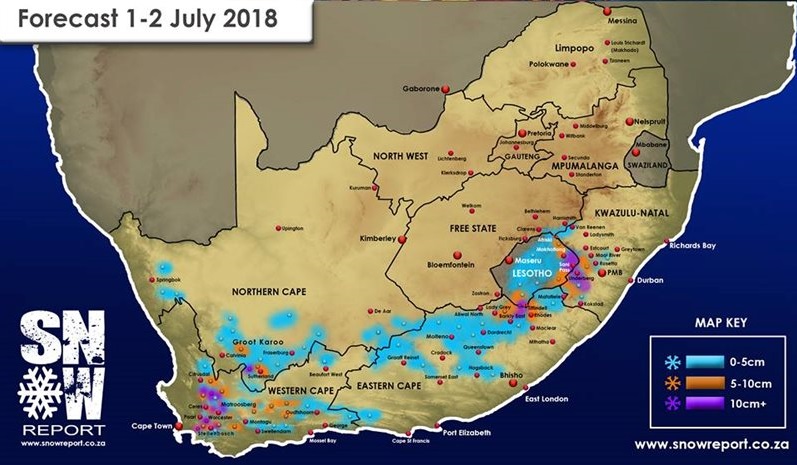 'We bring you the latest Graaff-Reinet, Karoo news'