Gallery
GRAAFF-REINET NEWS - After a year of hard work and coping with the stress of exams, Union High School's Class of 2018 were excited to receive their matric results following their release in the early hours of Friday, 4 January.
The class achieved a 97% pass rate, with 42 (67%) of the of 63 candidates achieving Bachelor passes, 16 achieving Diploma passes and 3 Certificate passes.
While three learners achieved A-aggregate passes, the class also managed to achieve a whopping 54 subject distinctions collectively.
Click here for a photo gallery.
The school's top performer was Amanda Brink, with 6 distinctions and an average of 87.71%.
Kelly Rose-Innes came in a close second, with five subject distinctions, Rebecca Langmead third with four subject distinctions and Uthimna Somi fourth with three subject distinctions.
In a statement posted on social media by UHS, the school congratulated their top achievers and thanked them for their commitment to making Union High School proud.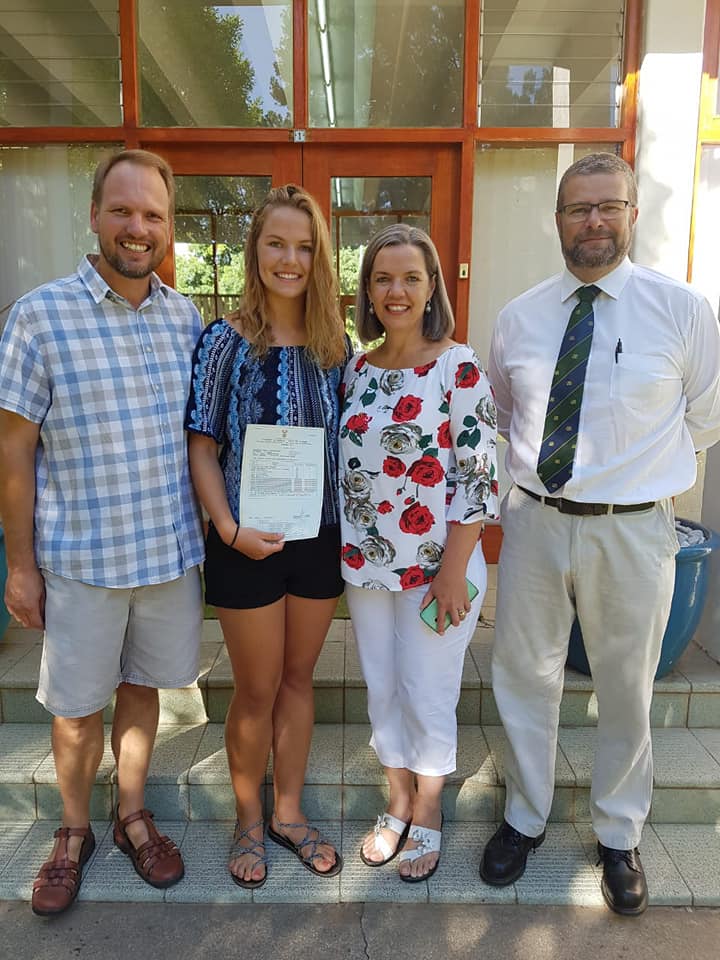 Union's top matriculant, Amanda Brink, who received six distinctions, with her proud parents and UHS headmaster William Pringle.
The school also congratulated the following learners for obtaining subject distinctions:
Tracy-Lee Abels (two distinctions),
Phawoluhle Abraham (two distinctions),
Caitlin Arnott (one distinction),
Kayla Bodenstein (one distinction),
Oarona Dibi (one distinction),
Lilitha Hans (one distinction),
Bavuyise Hermans (three distinctions),
Zita Jacobs (two distinctions),
Michael Krige (two distinctions),
Ben Kroon (one distinction),
Britney Ludick (one distinction),
Faith MacDonald (two distinctions),
Loren Mackelina (one distinction),
Linomtha Mudzana (one distinction),
Sinethemba Ndudula (one distinction),
Olwethu Ngcai (one distinction),
Leigh-Ann Ormond (one distinction),
Ronan Potgieter (two distinctions),
Sonique Simpson (two distinctions),
Yonwaba Smith (one distinction) and
Likho Zwakala (one distinction).
"Our sincerest thanks go to a very dedicated team of educators, who assisted these learners to reach their full potential, as well as to all stakeholders in this community for their tremendous support of our efforts to maintain excellence in education and academics in particular. Our final praise goes to our God Almighty, who makes the impossible possible," a spokesperson for Union said.
'We bring you the latest Graaff-Reinet, Karoo news'