Video
LATEST UPDATE: TENSIONS CONTINUE TO RISE IN STEYTLERVILLE
STEYTLERVILLE NEWS AND VIDEO - Tensions were high in Steytlerville today (Monday 18 May) as angry residents set tyres and old vehicles alight in protest against the return of contract workers from Limpopo.
The Department of Public Works contracted HBC construction company from Limpopo to build the new police station in Steytlerville, and work started back in 2018, according to one resident who worked on the project in its early stages.
During the first period of lockdown, all work had to stop, and the construction workers returned to their home province. With the easing of restrictions to level four, work can now be restarted, and sometime on Saturday night, a bus carrying 18 construction workers arrived back in the town. As essential services workers, the workers had valid documents from the Department of Public Works.

Many local people were unhappy about this, concerned that the workers could be bringing coronavirus to the town, which to date has not had any cases. A large group of residents marched to the local clinic on Sunday, insisting that the returning workers be tested. They also demanded that the construction workers leave the town immediately.

This did not happen, and on Monday morning, there was a large gathering of residents in the centre of the town. Old vehicles were rolled into the road and set alight, tyres were burned, and piles of rocks were used to block the road through the centre of the town.
The local police called for reinforcements from the Public Order Policing unit in Port Elizabeth.
Local councillor Danie Bezuidenhout met with HBC representatives and suggested that they should leave the town for a few days to allow law and order to return, which they agreed to do if suitable quarantine facilities could be provided.
According to Bezuidenhout, the POP officers declared that they do not want to make trouble, but they are prepared to take strong action if necessary.

The protesters agreed to leave, and clearing up operations were undertaken by the police and the municipality.
A meeting has been arranged for 12 noon on Tuesday between the Department of Public Works, the contractor, SAPS and a deputation of local residents. POP officers are staying overnight in the town to be available should any further trouble arise.
"A major problem is that the contract workers cannot return to Limpopo, even if they leave Steytlerville, as their permits are for one-way travel back to their place of employment," explained Bezuidenhout.
A local resident, who did not want to be named, said that an underlying cause of tension is that few local people have been employed on the project.
Watch a video below.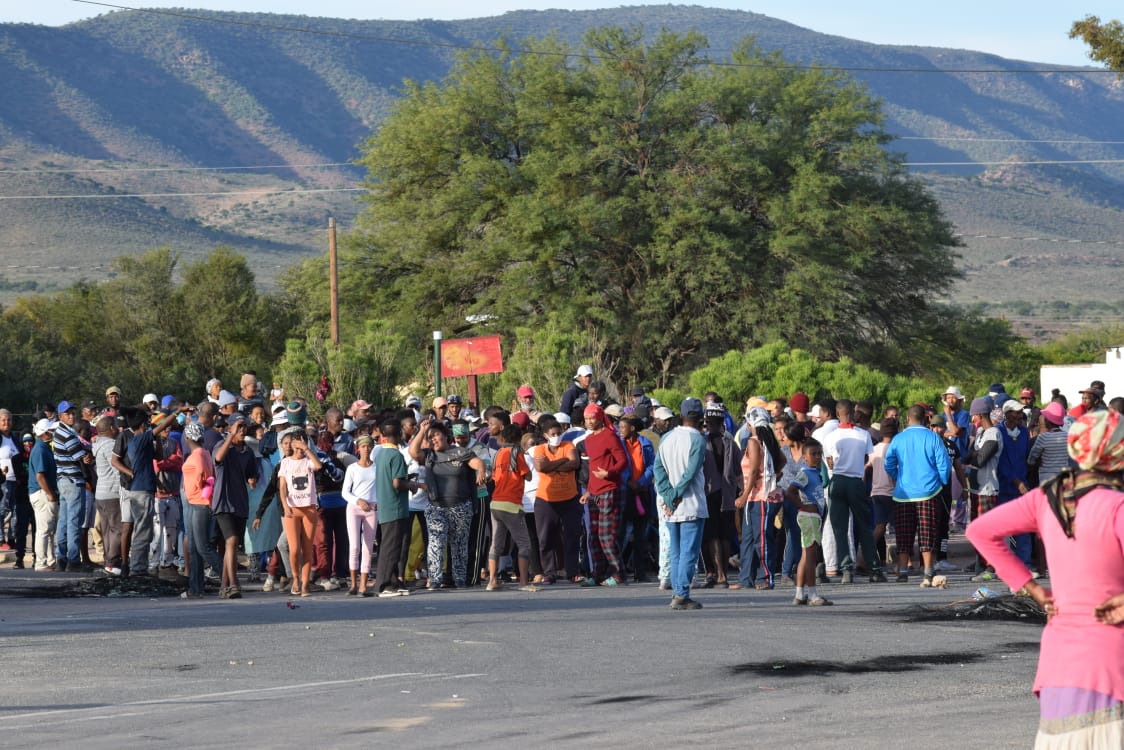 The unhappy residents gathered in the centre of town. Photo: Alton Mapoe
'We bring you the latest Karoo news'