Video
GRAAFF-REINET NUUS EN VIDEO - Die Camdeboo-distrik word tans verfraai deur flaminke in die Nqwebadam buite Graaff-Reinet se oorblywende 1,2 persent water.
Tientalle flaminke het hul onlangs gaan tuismaak in die vlak water in hul soeke na kos. Op hul spyskaart is alge, skaaldiere, pekelgarnale en waterplante.
Ten spyte van die droogte is die vlug van die flaminke oor die Nqwebadam vir talle inwoners 'n pragbeeld om te aanskou.
Kyk 'n video hieronder.
Selfs digter Frans Andrews het dié vlug op papier verewig met sy gedig Dans van die flamink:
"Pronkend trots, staan die flamink en dans. Lang nek swaaiend in die wind. Dan, kop onderste bo die water in.
Vere, sneeu wit tot flambojant pienk, dans hul die rooibeen, langbeen dans.
Die mens wil die pienk van sy veer op die alg Spirulina blameer.
Geel brand vulkaniese vuur diep binne-in sy oë, geel brand die vurige Phoenix diep in sy hart: so word deur oorlewering beweer.
Met vier van jou spesie oor, gaan ons jul soos die Dodo verloor? Gaan ons kinders se kinders jul dans slegs in boek of museum... kan beleef?"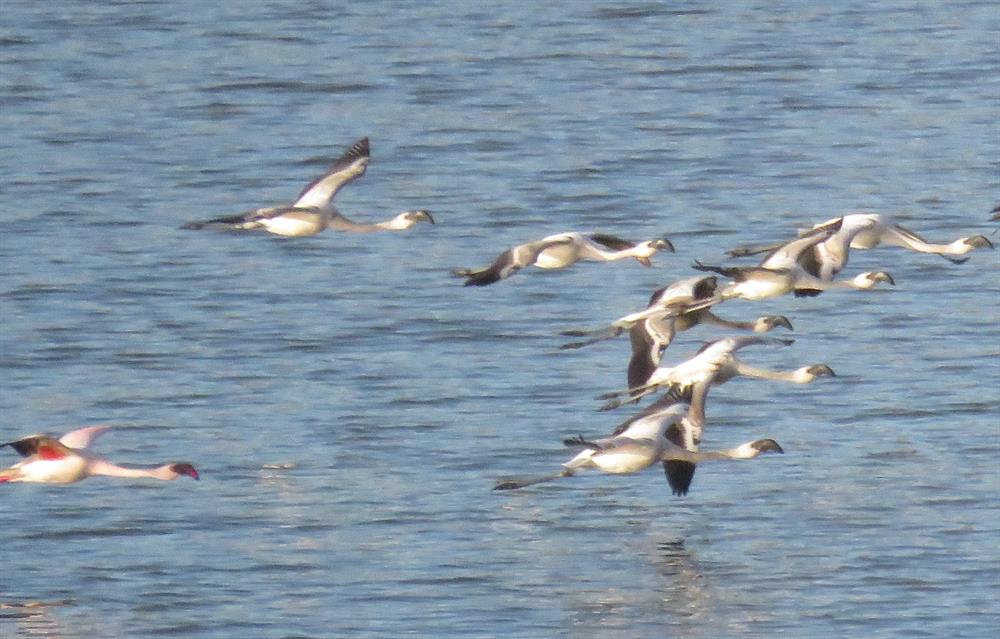 Geveerde vriende van Graaff-Reinet land in die Nqwebadam.
Alhoewel Andrews dig dat slegs vier spesies oor is, sê Princeton Universiteit sosioloog David Grazian aanlyn die oorblywende spesies is as volg:
Die kleinflamink, wat voorkom in Oos-Afrika, die Persiese Golf en Noordwes-Indië.
In die Chileense Andes kan jy die Andesflamink vind, en in Peru en Noord-Chili die James se flamink.
Die Chileense flamink geniet dele van Suid-Amerika, terwyl die rooiflamink te sien is in die Karibiese gebied en op die Galápagos-eilande.
In Wes-Asië en Afrika het ons die grootflamink.
Dit blyk of dit dus dié flaminke is wat in die Nqwebadam pronk.
'Ons bring jou die nuutste Karoo nuus'